About the scarf:
I made this scarf while kind of just messing around with different yarns and practicing how to cable (this was my first cabled project). What I did was used
2 yarns at once
(to make it look bulkier). If you look closely, you can see the 2 different yarns.
The teal color yarn is actually yarn from an unwanted sweater that my mom took apart. And the white yarn is worsted weight yarn.
This pattern can be worked using bulky yarn or you can try using 2 different yarns at once. Mix and match and see what works for you.
Materials I used:
- US size 13 straight needles
- teal & white yarn
- cable needle
Double Trouble Chunky Cable Scarf
Pattern:
Using size 13 needles, cast on 12 stitches.
row 1: *knit*
row 2: *K3, P6, K3*
row 3: *knit*
row 4: *K3, P6, K3*
row 5: *knit*
row 6: *K3, P6, K3*
row 7: K3, slip 3 stitches on cable needle and hold to back of work, K3, then K3 from the cable needle, then K3 to end the row
row 8: K3, P6, K3
**repeat rows 1-8 until desired length**
You can do a few rows of garter stitch at the ends of the scarf (right after casting on and right before binding off) to give the scarf a different look: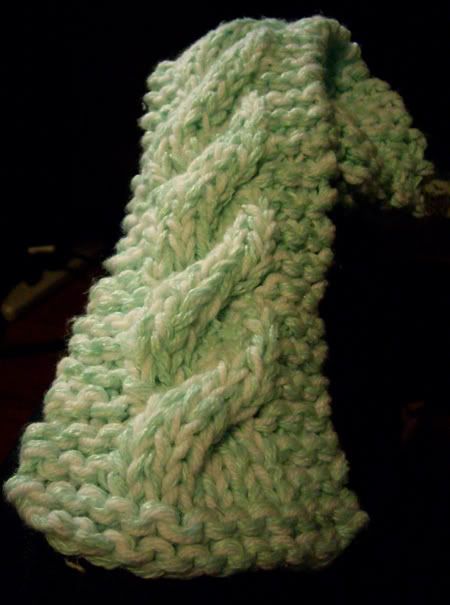 Abbreviations in this pattern:
** = repeat everything between the ** for the entire row
K = knit
P = purl